What do you do when you are stuck spending four days on the couch with a sinus infection from H-E-Double Hockey Sticks? Besides whine to your dog and husband? You update your blog tabs. That's what you do.
I updated the Home Projects, Photography/Blog Tips, Crafty Things, and Recipes tabs. I also added the Travel tab. Click around. See if you have missed anything important.
Maybe your dog needs a tie for your holiday photos?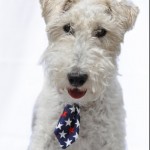 Maybe you missed the hard hitting posts where I organized my spice racks or used burlap as wallpaper.
Maybe you need a good recipe for the week. The photo of Cheeseburger Cups looks disgusting but trust me, they are tasty! (It's funny to look at the difference in our photography for the earlier posts compared to the current posts. I hope we'll be saying the same thing in a year.)
Important Tip #1: Here's an important tip for those of you just starting out blogging. Start your tabs/static pages now! Seriously. Don't be like me thinking you will eventually do it. You'll be sitting at home on a sick day 2 years from now wishing you hadn't been a slacker. Static pages make it easier for readers to see what you've been up to. (Learn how to make your own using Blogger here.)
Important Tip #2: inlinkz made this update so much easier. I broke down and bought the subscription ($20 for the year). I am a weirdo about spending money on this blog. The only money I have previously spent is $5 for photo storage (which you are basically forced to do.) This subscription is totally worth the money.
I was trying to mess with code before. I know very little about coding. It's just not my jam. (Unlike Reese's Pieces. They are my jam.) It's the site a lot of bloggers use for hosting link parties. But you can also use to it organize your projects page. Who knew?? It's very user friendly. You enter you're the address for your blog post. It pulls the pictures from that post. You crop the photo, add your title and you are done. You can edit the page information at any time. Me likey. I might even host a link party. Who knows.
Speaking of parties. Check back tomorrow for a big announcement. Ooooooo, the suspense!
Did you find any fun posts that you missed? Are you an organized blogger? Just starting out? Reese's Pieces fan? Pumped for the big announcement?
***Don't forget to enter the giveaway for Ana White's book, The Handbuilt Home. Enter here!***