June 11th marked the 6th year anniversary of the day Nate asked me to marry him. Awwww, or barf…I get it.
I decided to get crafty for the occasion. I haven't done anything crafty for about a month now because we. are. never. home.
To understand my craft…you should probably know how Nate proposed. (If you hate girly wedding stuff, scroll down to the pictures…)
Nate got me tickets to see the Lion King in Chicago for my 23rd birthday (which was in March…the Lion King wasn't until June…I thought I was getting hosed.) We decided to spend the week-end in Chicago and explore the town and end the trip on Sunday with the Lion King.
Little did I know that he had also packed a pretty diamond ring.
Saturday night we headed to Navy Pier. We hopped on the Ferris Wheel and he popped the question. I was VERY surprised. One because I had no idea he had a ring and two because he proposed in a very public place. And I cried..like a girl…I hate when that happens…
I'm usually not a pack rat. Actually, I usually end up throwing away things that I shouldn't…but I did keep our tickets for this Ferris wheel ride. I had them in a shadow box…but I was over the shadow box and wanted an update.
I purchased this frame from Target…
I used a piece of scrapbook paper as a background and stuck on a black and white photo of the Ferris wheel along with the two tickets to create a frame of happy memories….
As you can see, it found it's home on our dresser in our master bedroom. It needs some friends. I'm slowly starting to get a vision for this space…slowly. I'm open to suggestions as well. I REALLY want to purchase this Ferris Wheel…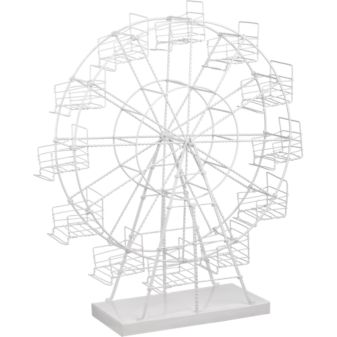 but I can't get over the price tag…come on sale…
There you have it…a super easy and inexpensive piece of art that is full of memories. This could easily be adapted for vacations, weddings, etc.
How'd your significant other propose? Not engaged? What's your dream proposal? Or better yet…what's the worst proposal story you've heard?
Linking up to: At the Picket Fence